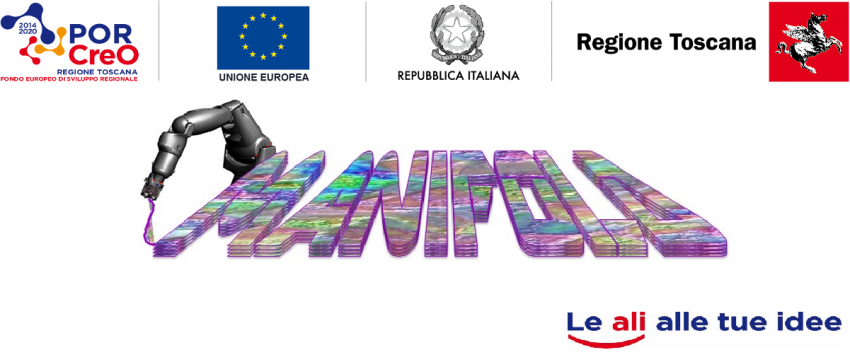 MANIfattura Additiva Innovativa di compositi FibrO-rinforzati per appLicazioni meDiche ed industriali
Il progetto MANIFOLD si propone di innovare la tecnologia della stampa 3D sviluppando un nuovo robot antropomorfo di stampa destinato all'industria calzaturiera, per la produzione di forme per calzature in materiali compositi fibrorinforzati.
Le forme per calzature vengono attualmente realizzate in termoplastico per asportazione di materiale, mediante centri a controllo numerico. Esse vengono rinforzate localmente utilizzando inserti metallici nella parte plastica per garantire la necessaria rigidezza nei punti maggiormente sollecitati durante il processo di fabbricazione della scarpa. Tali forme inoltre vengono opportunamente progettate e lavorate geometricamente per essere accoppiate agli attuali sistemi di trasporto/manipolazione delle linee robotizzate. L'attuale processo di fabbricazione delle forme presenta dei limiti oggettivi, quali la scarsa rapidità di realizzazione, l'elevato peso delle forme, la limitata precisione geometrica e la produzione di scarti dovuta all'asportazione meccanica.
Innovative Additive Manufacturing of fiber-reinforced composites for industrial and medical applications
MANIFOLD project proposes to innovate 3D printing technology, developing a new anthropomorphic printing robot for shoe making industry, for the production of shoe lasts in reinforced composite materials.
Shoe lasts have been presently manufacturing in thermoplastic materials by subtractive manufacturing with numeric control machines, and further reinforced locally with metallic inserts to guarantee the necessary stiffness to withstand solicitation during shoes manufacturing. Such shoe lasts are designed and machined to be coupled with the systems for handling and movement by robotized lines.
The shoe last manufacturing process have some limitations as low productivity, high last weight, limited geometric precision and the production of scraps due to mechanical machining.
INNOVAZIONE
Il progetto MANIFOLD propone di sviluppare un processo di produzione totalmente innovativo, impiegando la tecnologia additiva con materiali compositi montata su un robot antropomorfo per la realizzazione di forme cave alleggerite e in presenza di sottosquadri. L'impiego dei materiali compositi fibro-rinforzati consentirà di avere dei prodotti con caratteristiche meccaniche superiori e più leggeri rispetto a quelli realizzati con i convenzionali termoplastici da stampa 3D.
Tale processo, proponendo una soluzione rivoluzionaria di realizzazione delle forme, consentirà di ridurre tempi di produzione di almeno il 50% ed il peso di almeno il 40%. Inoltre considerando anche che in futuro gli stilisti adotteranno sempre di più il disegno CAD per progettare le calzature, questa soluzione ha una maggiore rilevanza nell'ottica di incrementare ulteriormente la produttività dell'industria calzaturiera.
La nuova linea produttiva delle forme di manifattura additiva con robot antropomorfo, sarà inoltre equipaggiata con una serie di sensori interfacciati con sistemi IoT per il monitoraggio delle prestazioni energetiche e tecnologiche, al fine di sviluppare un sistema di manutenzione predittiva basata su specifici algoritmi diagnostici generati dall'analisi dei big data generati.
INNOVATION
MANIFOLD project proposes the development of a very innovative process by using additive manufacturing technology with composite materials applied with an anthropomorphic printing robot arm, for the production of lightened hollow lasts and in the presence of undercuts. The use of fiber-reinforced composite materials allows obtaining lighter products with higher mechanical performances, compared with the state of art represented by 3D printed thermoplastics.
Such new process, proposing a revolutionary solution for making shoe lasts, allows reducing manufacturing times of 50% and last weight of 40%. Furthermore, in consideration of a wider use of CAD tools in the future by the stylists for shoes design, the proposed solution is expected to be particularly relevant for increasing shoe industry productivity.
The new additive manufacturing line of shoe lasts will be also equipped with sensors interfaced to IoT systems for the monitoring of energetic and technological performances, with the goal of developing a predictive maintenance system based on diagnostic algorithms generated by the big data analysis generated.
PARTENARIATO
Robot System Automation srl (CAPOFILA): azienda che opera da anni con successo nel settore automazione industriale, con business core nel settore produzione calzature. In MANIFOLD, il capofila RSA si occuperà di progettare e realizzare dal punto di vista meccanico ed elettrico il nuovo robot antropomorfo, che ospiterà la testa di estrusione, comprensivo anche del sistema di controllo di processo.
ROBORIS Srl: azienda che sviluppa software per uso industriale per programmare macchine utensili a controllo numerico, robot antropomorfi e simularne al contempo i movimenti. In MANIFOLD, Roboris si occuperà di realizzare tutti i componenti software necessari per passare dal modello 3D delle forme di calzature, al programma del robot utilizzato per la stampa 3D, e della progettazione di algoritmi per implementare le strategie di lavorazione.
Nuova SIMAT Srl: azienda che opera nel settore delle lavorazioni meccaniche di precisone. Nel progetto MANIFOLD, Nuova Simat si occuperà della progettazione, realizzazione e validazione meccanica ed elettrica dell'isola robotizzata con elevata portabilità.
Big Data Tech Srl: società specializzata in soluzioni IT per i Big Data. Nel progetto MANIFOLD, Big Data Tech si occuperà dello sviluppo del sistema di manutenzione predittiva e in collaborazione con il proprio subfornitore KEPLERO, della progettazione e realizzazione dell'interfaccia verso i sensori utilizzati.
Ing. Massimo Liggio: Libero professionista che si occupa di sviluppare firmware per sistemi embedded e di progettazione hardware, per la gestione dell'interfaccia uomo-macchina, la gestione anche remota di apparati industriali e della comunicazione tra macchine (networking). Nell'ambito del progetto MANIFOLD, l'Ing. Massimo Liggio si occuperà della progettazione del firmware di gestione e di controllo di sensori ed attuatori facenti parte dell'impianto.
GIMAX 3D snc (subfornitore): azienda di progettazione e costruzione di stampanti 3D a fusione di filamento, In MANIFOLD, si occuperà di progettare e realizzare la testa di estrusione per la stampa 3D dei materiali compositi, di sviluppare e fornire opportune formulazioni di materiali compositi fibrorinforzati.
Laboratori ARCHA srl (subfornitore): Laboratorio di analisi e ricerche, In MANIFOLD, ARCHA collaborerà nella selezione delle matrici polimeriche e dei rinforzi, alla progettazione di formulazioni dei materiali compositi.
PARTNERSHIP
Robot System Automation srl (COORDINATOR): company successfully operating in the industrial automation sector, with core business in shoes manufacturing field. In MANIFOLD, RSA deals with the design and production of the mechanical and electric parts of new anthropomorphic arm hosting the extrusion head, comprising the process control system.
ROBORIS Srl: Company developing software for industrial uses and for programming numeric control machine tools, anthropomorphic robots and their movement simulation. In MANIFOLD, Roboris deals with the development of the software to transfer the 3D last model into a program used by the robot, and the design of the algorithms to implement manufacturing strategies.
Nuova SIMAT Srl: Company acting in the field of mechanical precision production. In MANIFOLD, Nuova SIMAT deals with the design, manufacturing and validation of the highly portable robotized station by mechanical and electrical point of view.
Big Data Tech Srl: Company specialized in IT solutions for Big Data. In MANIFOLD, Big Data Tech deals with the development of the predictive maintenance system, and supported by its subcontractor KEPLERO of the design and production of the sensor interface.
Eng. Massimo Liggio: Expert consultant, developer of embedded firmware systems and hardware design for the managing of man-to-machine interfaces, remote management of industrial apparatuses and machine-to-machine communication (networking). In MANIFOLD, Eng. Liggio deals with firmware design for the sensor and actuators control.
GIMAX 3D (subcontractor): Company specialized in design and manufacturing of 3D printers- In MANIFOLD, GIMAX 3D deals with design and manufacturing of the extrusion head for 3D printing, with formulation and supplying of fiber-reinforced composite material filaments.
Laboratori ARCHA srl (subcontractor): R&D and analysis laboratory, in MANIFOLD deals with the selection of the polymeric matrices and reinforcements for the design and formulation of the composite materials.